Dear Friends,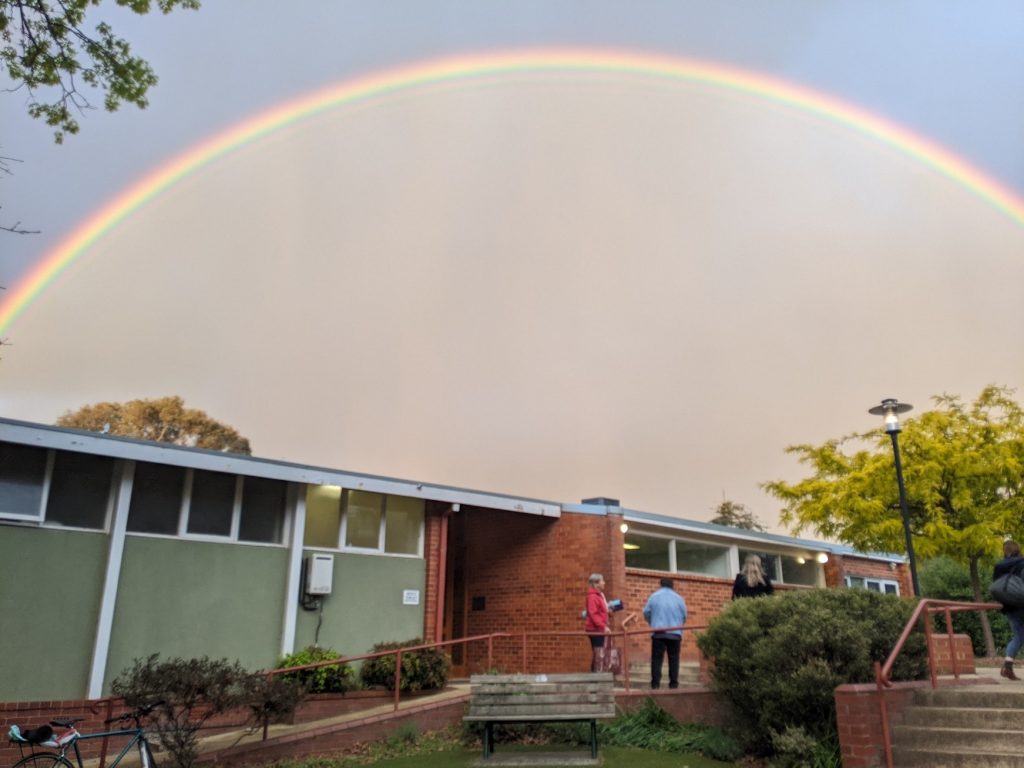 An incredible rainbow – the most vivid and colourful I have ever seen in my life – appeared in the sky over Kingston last night. Here is my picture of it, although Duncan Grove's picture (below), captured the colours much better! (I also note that Callum Ince had the distinction of his 3rd picture appearing on the ABC news last night! Amazing work, Callum!)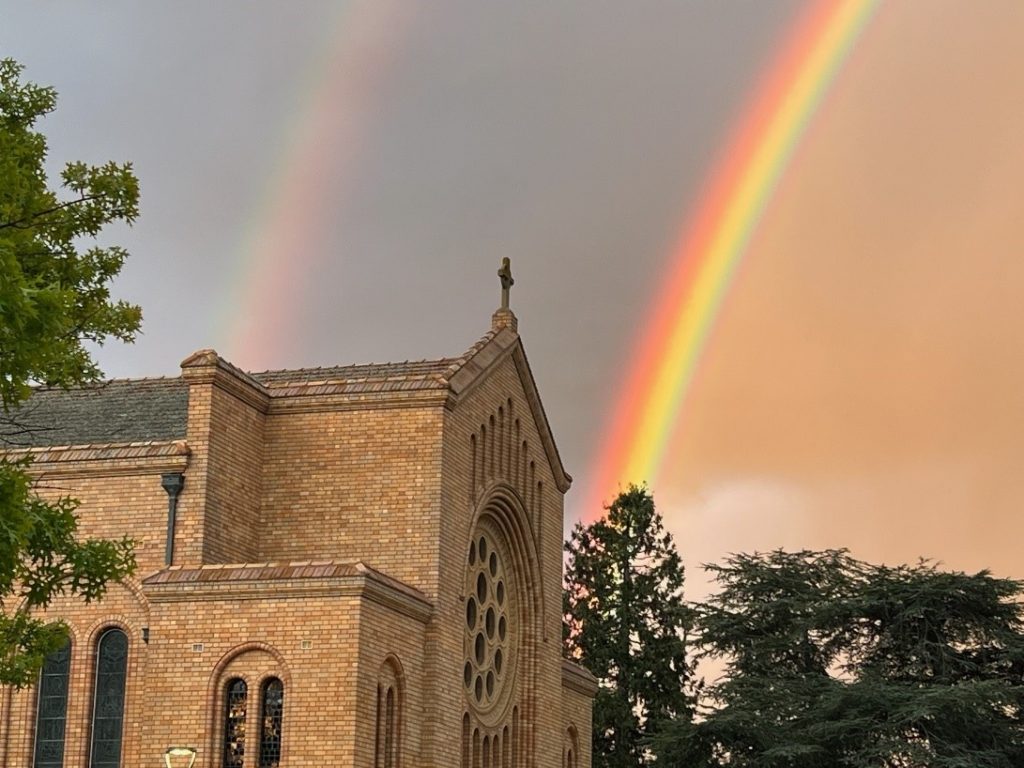 In Genesis 9, God says, "I have set my bow in the clouds, and it shall be a sign of the covenant …I have established between me and all flesh that is on the earth." A covenant to end destruction through the means of destruction – to end enmity through the means of enmity.
We pray wholeheartedly, with broken hearts, for that covenant to be over the people of Israel and the people of Gaza.
And we pray for that covenant to be over our country as well, in the aftermath of the Voice Referendum.
If you were there (or have watched Sunday morning's service) you will know I sent a message to Grant Paulson, to the whole Paulson family, early Sunday morning and received this message back from Grant: Bless you, Belinda. Many thanks to you and the Canberra Baptist family for your sustained kinship on this journey of justice and peace. Please send out thanks and comfort to those who grieve with us.
This is our task over the next days and weeks, to thank and comfort those who are grieving Saturday's outcome – and to continue to work for justice, for better outcomes, in the coming months and years.
As part of this task, Common Grace have created a space to gather online to lament tonight – Tuesday 17th October. Register here to receive the Zoom link. Can I encourage you to connect in with this service.
We also pray for that covenant to be over our NSW/ACT Baptist Association.
On Sunday, at our church meeting, we agreed to adopt the paper the deacons have prepared, and the church has discussed, on Same-sex Marriage and the NSW/ACT Baptist Association and publish it on our website.
To affirm our ongoing commitment to the NSW and ACT Baptist Association, despite recent events, and in the context of the real prospect of Canberra Baptist being disaffiliated;
to explain why we oppose recent decisions by the Association to require support for a particular view of marriage; and
to provide some resources so others may consider these issues, in the absence of any being provided by the Association.
A week ago, at the deacons' meeting, I shared a letter from Jim Barr (a former minister of this church) and was asked to share it with all of you.
He writes to encourage me in the role I am playing in the support of churches that will be disaffiliated and pastors that will be disaccredited (and within new Open Baptists association), but he also commends Canberra Baptist Church for the historic and 'gospel worthy' (to borrow Paul's phrase) position we have taken, and he begins (very appropriately during our series on Philippians) with joy!
Dear Belinda,
I think of you…with joy and prayerful regard. …There are various reasons that you are in a very strategic position with regard to the leadership of the Open Baptists [the network of churches opposed to the changes being imposed on our Association].
Firstly, you are a woman – and we must not discount or underappreciate the importance of that in a denomination where the acceptance of women in ministry is still contentious in some quarters. Secondly, you are the senior pastor of the 'National Church'. Perhaps for the first time in its history Canberra Baptist Church is actually being called on to lead the denomination in a meaningful way through the Open Baptists. I hope the church and diaconate understand the critical importance of this and support you fully in the workload this entails…You really need a champion in the diaconate… to keep reminding people that this IS your ministry, and it is strategically vital for the future of the Canberra church and the denomination. I would suggest even for the future of the Christian churches in Australia.
I'm beginning to see that the breach in Baptist life embodied the 'The Expulsion' (which is I suspect how this event might be seen as in the future – much like the Great Disruption of 1843 in Scots Presbyterianism or the Grand Remonstrance of the early 1600's in Holland) is very deep and will not be easily healed. It has aspects of governance, hermeneutics, culture, Christian ethics, missiology and evangelism. "What really is the heart of the gospel, the good news?" It runs that deep.
It is a very deep divide and constitutes a new beginning for the churches of Jesus Christ in Australia. While there is grief and stress and pain, there is also hope and excitement and all sorts of promise and potential. Canberra Baptist Church is privileged to have a role and a key responsibility in all that!
May you be sustained and blessed in the very considerable burdens you are carrying at the moment.
Grace and peace, Jim
Can I ask that you do pray – for the whole leadership of this church – and for the other churches and for our whole Association as we navigate – as Paul says – "work out our (our combined) salvation with fear and trembling; for it is God who is at work in us, enabling us both to will and to work for his good pleasure." As we create justice and joy!
Grace and peace,
Belinda