Dear Friends,
We are currently in NAIDOC Week and this year's theme is 'For the elders.'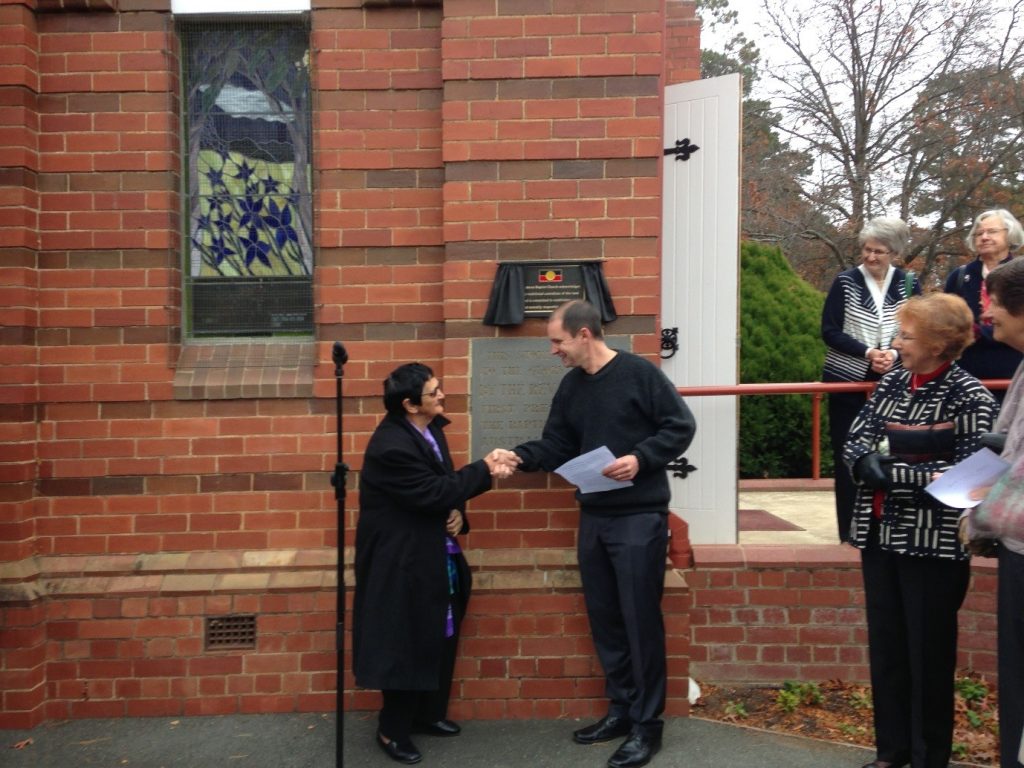 On Sunday night, a group of young adults gathered in the Lounge (to finish off the chilli-con-carne from Sunday's lunch!) and to watch a short film (38 minutes), Footprints on Our Land, about the life and legacy of Ngunnawal elder, Aunty Agnes Shea, who passed away in March this year at the extraordinary age of 91. The film comments on how significant it is for the Aboriginal community to have an elder live to this age.
In addition to Canberra Baptist making an appearance in the film, what had a huge impression on me was the stories of discrimination and racism – not geographically distanced from us, but right here in our region – and not a century ago, but in the lifetime of someone I have had the privilege to meet.
Aunty Agnes describes growing up first at Oak Hill Aboriginal Reserve, Yass, "an open bit of ground on the stock route" where Aboriginal people were permitted to build and live in gunjes, dwellings with dirt floors, stringy-bark walls, and galvanised iron roofs. and then Hollywood Aboriginal Reserve. As children they were permitted limited access to Yass town and only under supervision. They were forbidden to speak their own language when in town; and threatened with court and removal to a children's home if they did.
After her father died suddenly, Aunty Agnes's family were forced to leave the Reserve. What Aunty Agnes remembers is the authorities telling her mother that as a single mother she was a bad influence on the rest of the community. (To date research has not found a record of any such official policy, but unofficial policies were not unknown on Aboriginal Reserves.) When they moved to a 'a place called Morton Avenue', about five kilometres from Yass, she and her siblings walked the five kilometres to school because Aboriginal children were not permitted to use the school bus service.
Later, when she was married and expecting her first child, Aunty Agnes was one of first three Aboriginal women allowed to have babies in Yass Hospital. They were, however, confined to a back ward and could only use the rear entrance to the hospital. She tells how a yellow line painted across the corridor marked the boundary of where the Aboriginal women were permitted to walk. They could walk to the yellow line and no further; they were forbidden from associating with the non-Indigenous new mothers in the adjacent ward.
But what was extraordinary about Aunty Agnes, is not just that she lived to 91, but that she demonstrated an extraordinary generosity in her work for reconciliation and justice and greater understanding across the Canberra region. Above is a picture of Aunty Agnes here at Canberra Baptist in 2012 when our 'acknowledgement' plaque was unveiled.
After this Sunday's service, we are offering a 'repeat viewing' of the film, Footprints on Our Land, in the Lounge. If you can stay after the service, I would strongly encourage you to come and watch it as part of our NAIDOC Week celebrations and ongoing commitment, as the acknowledgement plaque says, "to establishing just and mutually respectful relationships."
In two weeks – on Tuesday, 18 July, at 7:30pm in the Hall – we are also holding The BIG Book Group, inviting everyone to read The Voice to Parliament Handbook and to come and talk about it. We will start with supper at 7:30pm, so feel free to bring a plate to share.
May we also continue to show extraordinary generosity in our work for reconciliation and justice and greater understanding.
Belinda