I am still fascinated by the name – Righteous Lazarus, the Four Days Dead!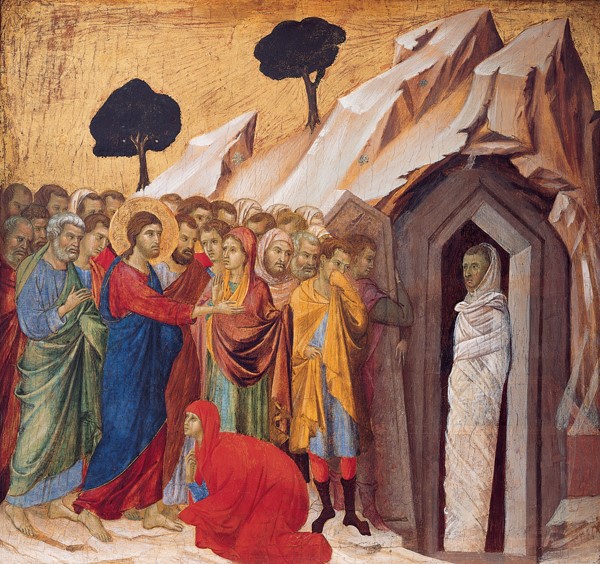 If you missed last Sunday's service, this is how Lazarus of Bethany (John 11:1-45) is known in the Eastern Orthodox Church.
I confess, when I first heard the name, I was reminded of the 1987 film, The Princess Bride.
Apologies to you who haven't seen it or who aren't fans (Inconceivable!), but there's a wonderful scene where the 'miracle worker' Miracle Max says, "It just so happens that your friend here is only MOSTLY dead. There's a big difference between mostly dead and all dead. Mostly dead is slightly alive. With all dead, well, with all dead there's usually only one thing you can do."
"What's that?" Inigo Montoya asks.
"Go through his pockets and look for loose change."
The significance of Lazarus being dead for four days is that, according to Jewish thinking, he was now 'all dead'. The Jewish rabbis believed that the soul hovered over the body for three days, during which time you were 'mostly dead', but after four days, you were 'all dead'.
And yet this is when Jesus raises Lazarus. He raises him from the 'all dead' because, as he says to Martha, Lazarus sister, in verses 25 and 26, "I am the resurrection and the life. Those who believe in me, even though they die, will live, and everyone who lives and believes in me will never die."
I am also reminded of what the apostle Paul says in Ephesians 2:5, "Even when we were dead through our trespasses, [God] made us alive together with Christ—by grace you have been saved— "
Even though we were all dead because of sin in our lives (sin that is always fatal!) God made us fully alive! We now live in union with God. We share eternal life with God.
This Sunday we are gathering to celebrate our communion with God – very appropriately – by celebrating communion!
Can I invite you to use this prayer (below) as you prepare for Sunday.
Invitation to the Table (based on 1 Corinthians 11) by Ann Siddall
This is for you,
but it may change you
from one who is anxiously concerned
about their own redemption
into one who knows
that Christ's body is the earth
and all who walk upon it,
are one in Him
into knowing that
we are not redeemed
by our being good
but by our being connected
into knowing that
daring to eat
at the table of Jesus Christ
has unimaginable consequences.
So come,
come to be made whole,
and to participate in the work
of making us one with Him and each other.
Grace and peace to you all. Let us come on Sunday (and next Sunday!) to celebrate being made 'all alive' by God!
Belinda
PS There are several other events on Sunday, too!
12pm – meet in the carpark for a Community Easter Egg Hunt organised by our youth team (Saskia Blackburn, Zach Downey, Ryan Edgerton and Daniel Maundu).
1pm – gather in Garema Place in the city for the Palm Sunday Rally to raise awareness of the ongoing need for compassion and refuge for refugees.
4pm – come to the church for a Song Session for anyone who plays an instrument or loves singing.
And 7:30pm Thursday (6 April) is our Tenebrae Service, 9am Friday (7 April) is our Good Friday Service and 10am Sunday (9 April) is our Easter Service. If you can assist with morning tea after the Good Friday service – please contact Belinda or the office this week and we are very keen to start receiving donations of hot cross buns! (Please drop these to the office anytime between 9am and 2pm, Tues to Thurs, (4-6 April).