Dear Friends,
Thank you to all those who helped to make last Sunday's 94th Anniversary Service such a wonderful occasion!
I appreciated Rev Phil Waugh's words – very relevant and very challenging – and the beautiful music from Kelly Tsang and Desmond Tan and the choir, and the special morning tea, coordinated by Anneke Blackburn. It was a wonderful celebration, and it was followed by a significant church meeting in the life of this church as we work out together – as I said last Friday – the nuts and bolts of what it means to follow Jesus today.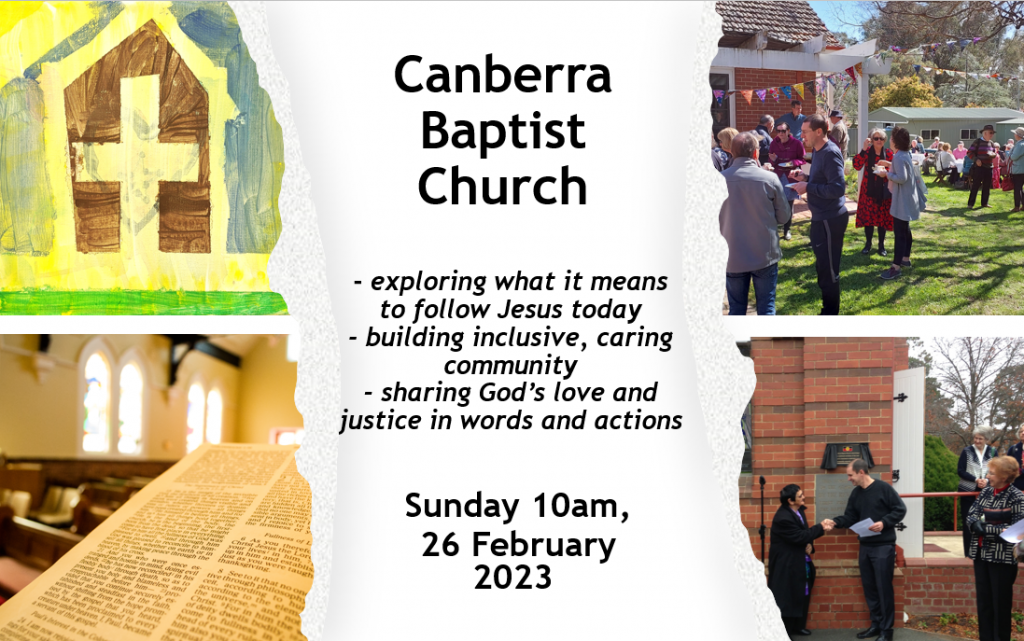 I mentioned at the meeting that, as we pursue our goals this year, my focus is 'different faces'!
It has been wonderful to hear different people talk about their journey of faith – or their experience of this church – as part of highlighting small groups or welcoming newcomers so far this year – and that is an emphasis that – wherever possible – I want to continue. We are all enriched by these 'different faces ' and by hearing their stories.
Because 'different faces' coming together to be the church is what Baptist churches are!
Baptist churches are based on this radical idea that we do not need a hierarchy! That Christ is the head of the church. As I said in a sermon around this time last year, "Jesus didn't start the Church and walk away. He didn't say to the disciples, "Ok guys, it is all your show now…" No, Christ is the head of the Church – is! – so all church structure and decision-making processes must be built around that reality." And this is why Baptists hold onto this other radical concept of the 'priesthood of all believers.' Together we worship God and together we serve God – and this is why we (as Baptists) have church meetings – so we can work out how to worship and serve God together.
(One extra plug for church meetings! Anyone is welcome to come to a church meeting, but as this is the only form of governance we Baptists have (no hierarchy, remember!) only members can vote. The good news is becoming a member is straightforward. You just need to be committed to following Jesus (i.e. you've been baptised) and to want to be part of following Jesus here with us (and we'll welcome you into membership!) Please speak to me if you'd like to know more!)
My second focus this year – tying in with our second goal – is 'open places'.
Camp is a key 'open place' for our church. If you are coming to camp this weekend – hooray! If you can't come – please pray that it will be a wonderful 'open place'!
We have a huge variety of small groups (that are 'open places' as well) but tonight our special New Group for Newcomers starts with a four-week series (over the next four Thursday nights) on the life of Jesus. Anyone is welcome to join us – tonight in the Lounge 7:30pm to 9pm.
On Sunday – at our church meeting – we also reaffirmed our commitment to be an 'open place' for LGBTIQ+ people as we worked through come of the issues we are facing in our wider NSW/ACT Association.
There are lots of other 'open places' in the life of our church – places where 'different faces' are welcome, and I want to especially thank our pastoral care team – Peter Churcher, Lucy Gledhill, Gary Hilton, Wendy Holland, Meryl Jackson, Kathy Joyce, Janelle Lamont and Anthea Snowsill (as well as Cecelia, Steve and myself with our particular responsibilities) who work to make this an 'open place' where people are supported and cared for.
Speaking of caring for each other – can I remind you again that we will be gathering on Monday 6 March, 2:30pm in the church, to give thanks for the life of Keith Knox, a long-time member of this church, and to express our love and concern to Marlene, Gary and Sue, Joelene and Justin,. Caroline and Manny and the wider family.
Finally, it seems to me that the fruit of 'different faces' and 'open places' is that we will experience 'new graces' in our church community!
This is what we continue to experience in our ministry activities – at SMAD, Yoga, Kingston Babies, Kingston Kids, Cooking Circles and in our Garden and our gardens. It is 'new graces' that I hope and pray will be part of the Cancer Conversations and Walk & Talk and any new hospitality initiatives – as well as those who want to promote a 'yes' for this upcoming referendum on the Voice to Parliament.
It was 'new graces' we experienced last Sunday with new people stepping up to contribute to our special church anniversary service.
It is 'new graces' we are discovering as we work through the difficult issues with our Association.
It is new graces we discover when we give generously and even sacrificially to those who are in need – as we are aware of many in need around our world at this time.
It is new graces we experience when we welcome newcomers and go the extra mile of changing the way we do things to genuinely welcome and accommodate them – to receive their 'new graces' amongst us!
New faces, open places, new graces – that's what I am committing myself to this year – and I hope you will pray for me, Steve, Cecelia, Richard, the deacons, and all those who serve in any capacity and all of us as we continue in ministry together.
Grace and peace, Belinda
PS If you would like to be removed from this mailing list – please email office@canbap.org