Dear friends
Belinda's sermon last Sunday was titled "People plus God" and was based on Matthew's account of "the feeding of the 5,000". The single sentence that summed it up for me was: "The resulting feeding event is the combined work of divine and human agency, people and God prepared to work together." It is a challenging thought with far-reaching implications for how we live our lives. A copy of the sermon as well as a recording of the whole service can be found on the Church website.
During the service we watched a very relevant video clip from Micah Australia on their latest campaign – "End COVID for all". There is a lot more information on their website  http://www.micahaustralia.org  including this explanation.
"This COVID crisis is not going to end for anyone, until it ends for everyone. While Australia has been a world leader in 'flattening the curve, too many of our neighbours around the world are ill-equipped to deal with a pandemic. And with no fences standing between any of us and COVID 19, it's time we offered a helping hand. Because we take care of our neighbours. It's just what we do. It'd be un-Australian not to. And even though our borders are shut, our hearts will never be. Together, let's pledge to stand in solidarity with all our neighbours, and encourage our government to provide vital support to vulnerable nations. Because it's what good neighbours do." 
As one way of participating in this, you are invited to an "End COVID for all" information and letter-writing night and supper to be held in the Hall on Wednesday 19 August commencing at 7.30pm. Click here for more details.
Monday night was the monthly Diaconate meeting. Again, see the coming bulletin for highlights from the Secretary. I'd just like to briefly mention two matters here. Firstly, one consultant recommended by the NSW/ACT Association for our review of ministry and staffing needs has been interviewed but we agreed to follow-up other suggestions. Secondly, in line with the motion passed at the last Church Meeting, an extension of my Interim till mid-November was discussed (in my absence) and voted on. I readily accepted the extension and Kristine and I are looking forward to this extra time with you.
On Wednesday night we had the second of our "Innovatively Emerging from COVID" conversations over ZOOM. Again, there were approximately 20 participants keen to be involved in this "Cycle of Discovery" process suggested by the Association.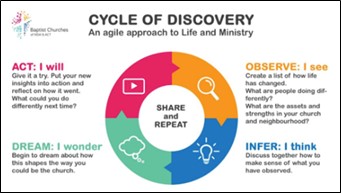 Having already done a lot of Observing, Inferring and Dreaming last time, we concentrated on the Act phase this time. We are already starting to implement some ideas that were generally thought to be worth trying. For example, a small group is planning a program of "walks plus" to be launched soon. Two other groups are wanting to explore further the development of intentional virtual church and interactive-style gatherings.
On Tuesday I was saddened to receive an email indicating that Justice Trevor Morling passed away on the weekend. He served for many years as a judge of the Federal Court of Australia. He was the son of G.H. Morling, the former principal of the NSW Baptist College (now called Morling College), and was a keen supporter of the College. He and his wife Ruth, who died earlier this year, were long-time members of Chatswood Baptist Church. Kristine and I got to know them when we moved into the area and started attending that Church after our marriage. They were very encouraging and supportive of us as I did some early ministry there as a College student. Trevor served as a Board member of Bethel/Ashfield Baptist Homes for 40 years, many of which were while I was Board Chair.
This coming Sunday it is the turn of I-Z's to be in the Church again for the worship service. We will of course be continuing to follow the ACT Health Orders and our COVID Safety Plan. Belinda is preaching again, this time from the Old Testament reading for the day — Genesis 37:1-4, 12-28. This is part of the gripping story of Joseph's dysfunctional home life and his brothers selling him into slavery. This continues the narrative thread of earlier weeks when we have heard stories about Abraham, Isaac, Esau and Jacob (later called Israel) who was Joseph's father.
I will be on-site on Sunday morning but in the Hall on Zoom. I look forwarding to seeing you and welcoming you if you join our Zoom livestream.
I want to leave you with a couple of verses that we meditated on at morning prayers earlier in the week. They were especially meaningful for us as we prayed about the COVID crisis.
Don't be afraid, I've redeemed you. I've called your name. You're mine. 
When you're in over your head, I'll be there with you. 
When you're in rough waters, you will not go down. 
When you're between a rock and a hard place, it won't be a dead end –  
Because I am GOD, your personal God, the Holy of Israel, your Savior. 
(Isaiah 43:1-3a, Message Bible)